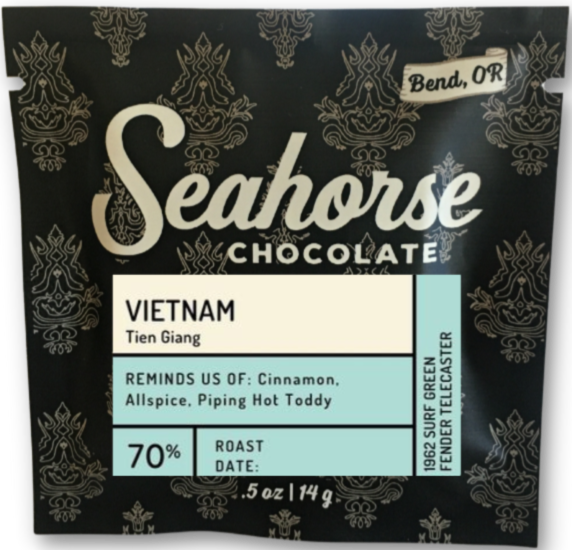 Vietnam, Tien Giang, 70%

Taste notes: Cinnamon, Allspice, Piping Hot Toddy
Situated in a low-lying, tropical region with a vast network of rivers, rice paddies, and swamplands; Tien Giang is a province on the northern branch of Vietnam's Mekong Delta. With hundreds of miles of canals reaching far into the farmland, the land is extremely fertile and has been a major agricultural producing area for more than a century. Farmers who produce this wonderful cocoa are provided technical support as well as paid well beyond Fair Trade prices, assuring sustainable livelihoods for farmers and continued high standards of quality for the cocoa they produce.

Seahorse chocolate is drum roasted in small batches & hand-poured in Bend, Oregon. Pair it with any of our single origin coffees for a decadent experience.
0.5oz Chocolate Square | Ingredients: Cocoa beans, organic sugar. Vegan. 
More Chocolate
Coffee Subscription
Get meticulously roasted specialty coffee delivered to your home or office. Enjoy a bi-weekly or monthly coffee subscription of freshly roasted, whole bean coffee delivered right to your door. Coffee subscriptions make perfect gifts for all occasions, too.
Subscribe Now