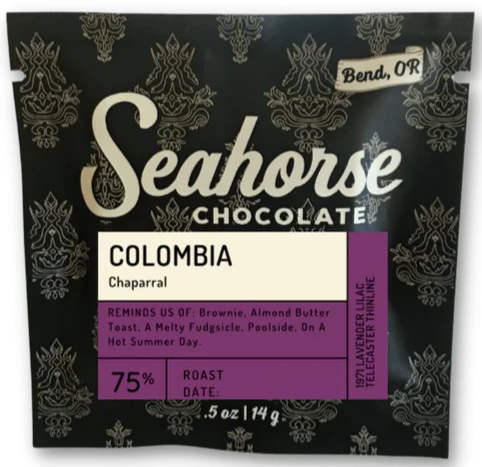 Two incredible producers, one delicious chocolate, 75%

Taste notes: Brownie, almond butter toast, and a melty fudgesicle on a hot summer day.
Cocoa Cholaca and Aroco, two expert cacao producing companies, have partnered to create a brand new origin of cacao in Colombia's Chaparral region.  They are on a mission to improve the lives of indigenous farmers in the region and promote sustainable forest management practices.  By increasing the Value of cacao, they're creating economic opportunities for farmers while also encouraging the preservation of the local ecosystem.
Seahorse chocolate is drum roasted in small batches & hand-poured in Bend, Oregon. Pair it with any of our single origin coffees for a decadent experience.
.5oz Chocolate Square | Ingredients: cocoa beans, organic cane sugar.
More Chocolate
Coffee Subscription
Get meticulously roasted specialty coffee delivered to your home or office. Enjoy a bi-weekly or monthly coffee subscription of freshly roasted, whole bean coffee delivered right to your door. Coffee subscriptions make perfect gifts for all occasions, too.
Subscribe Now