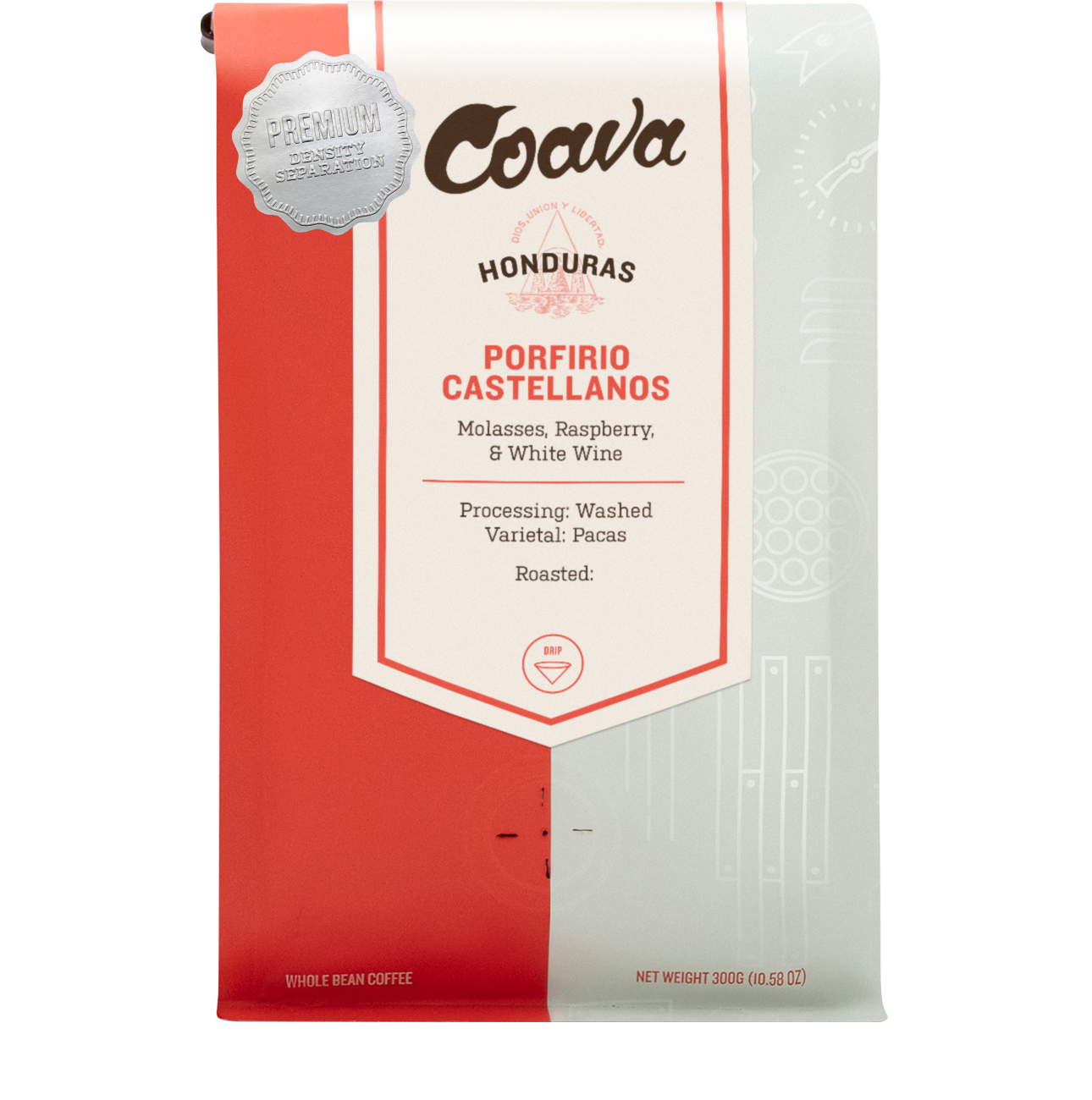 Porfirio Castellanos Density Separation
Honduras
Delicate. Fruity.
$19
/ 300G
Available in both drip & espresso roast profiles. 

Coava has worked with Porfirio Castellanos in Santa Barbara, Honduras for many years, and we are consistently impressed by the quality and consistency of his offerings. This coffee undergoes an extended fermentation of 20-24 hours during processing, which boosts the fruit-forward cup profile, and showcases a single variety called Pacas, known for both its quality and hardiness.
In the cup look for bright and sweet notes of raspberry and white wine that transition into a lingering molasses-like finish.
About Density Separations
Density grading, sometimes called dry milling, is the process of separating the heaviest beans from the lighter beans. The denser the coffee bean, the higher the quality. With dry milling, we run a density separation on what is already high-quality specialty-grade coffee. We run our separations twice, and in doing so, we separate out the very best of the best beans to roast. Imagine a roast of an already incredible coffee where each bean is a "10". The luxury of the absolute best is what is on offer here.
Density separations are very limited exclusives, and they tend to sell out quickly when they become available. Learn more about density separations & watch us in action here. 
Producer
Porfirio Castellanos
Altitude
1650-1700 Meters
Net Weight
300G / Whole Bean
Coffee Subscription
Get meticulously roasted specialty coffee delivered to your home or office. Enjoy a bi-weekly or monthly coffee subscription of freshly roasted, whole bean coffee delivered right to your door. Coffee subscriptions make perfect gifts for all occasions, too.
Subscribe Now